Welcome to our guide on how to check your N400 status.  Recently, many ask USCIS about the status of their citizenship applications due to long waits for USCIS to interview them.
First, it's important to understand why there're delays.  In 2022, USCIS is severely behind in processing some N400 applications. There is a variety of reasons for this including the Covid-19 pandemic and global events requiring immigration officers to refocus resources.   For example, many USCIS officers are reviewing asylum applications from war-torn countries.  Meaning, fewer officers review citizenship cases.
Even so, you must know your n400 case status.   In this article, we'll discuss how to conduct an n400 case status check  and other important information on the citizenship process.
How does USCIS process your N400 application?
If you're concerned about your N400 case status, you need to know how USCIS processes citizenship applications.
When you apply for naturalization (a process for residents to become citizens), you start by mailing your N400 to a USCIS service center for processing.  The service center will do an initial review of your naturalization application and send you an appointment to do your fingerprints.  This appointment letter is sometimes called a "biometrics notice."  Here is a picture of one:
After USCIS completes initial processing and biometrics, the service center will send your file to your local USCIS field office.  This office is usually located in a big city within your state of residence.  After a few months, the local USCIS field office will schedule a date for an interview.
A "biometrics notice" typically comes quickly.  It's the interview where most delays occur.  If no interview has been scheduled after 12 months then it's time to check your N400 status.
How to check your N400 case status?
After you have filed your n400 application, you will receive a receipt notice.  At the top of the notice, it should say I-797 Notice of Action.  On the upper portion of the N-400 receipt notice, you will find a box labeled "Receipt Number."  It will typically begin with three letters followed by a series of 10 numbers.  Here is a picture of it:
Once you have located your receipt number, can check your N400 status by going to the USCIS case status page. On the page, you will enter your receipt number and press the button "Check Status."
On the status page, you can learn several things about your N400 case status, depending on where you are in the process. Possible statuses include:
Your case has been received
You have been sent a letter requesting additional information
Your case has been forwarded to the local field office
Your application has been approved
You have been scheduled for an oath ceremony
What to do if USCIS has "Received" your N400 but it has not scheduled an interview?
If  you believe USCIS have delayed processing your citizenship, then there are a couple of things you can do:
First, confirm that your N400 case status shows received and there is no issue.  Meaning, enter your receipt number in the USCIS case status tool and if you see this then your case is pending without issue: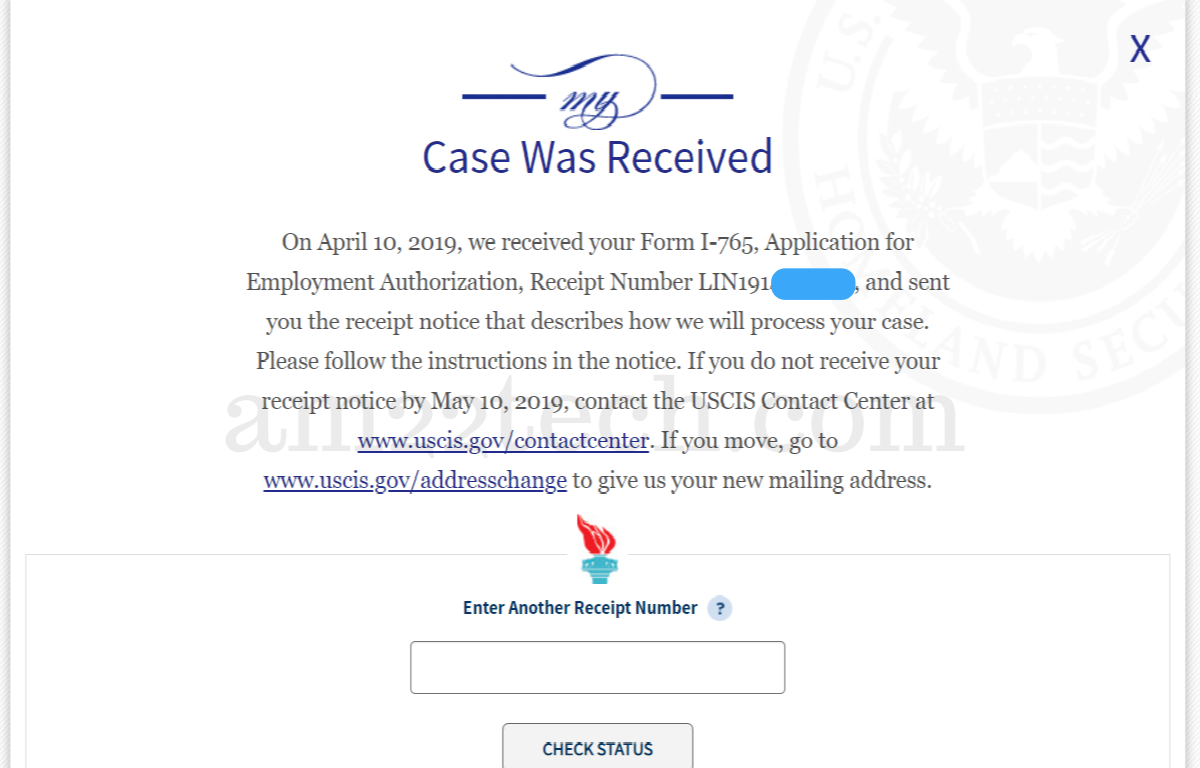 Next, if  USCIS received your case but you haven't heard anything about your N400 status then it's time to contact USCIS directly.  There are two ways you can do this.  First, you can submit an online inquiry  by clicking here.  Second, you call USCIS at 1-800-375-5283 about your case.
The delay is over and USCIS scheduled an N400 Interview
If you have no issues with your N400 status, then at some point in the process you'll get an interview.  Here's some important information about your citizenship interview.
What do I take to my interview?
At your citizenship interview, you should you the interview notice, your lawful permanent resident card (i.e. green card), driver's license or identification, passport if you have one, a certified copy of your original birth certificate, and taxes for the last five years.  If applicable, you should also take your marriage certificate and any divorce decrees. Finally, if you haven't already submitted it, you should take certified copies of all arrest reports (from the police department) and disposition documents (from the court).
What questions will USCIS ask me at the appointment? 
Usually, there is just one USCIS officer assigned to do your interview.  He or she often starts by reviewing your identification documents and taking your fingerprints, to confirm that you're the same person that applied.
After that, the officer often begins by doing the English and civics exams.
After the examination, the interviewer will verify all the information contained in your naturalization application.  The officer will go through the entire N-400, and make sure your answers are accurate and up-to-date.  Sometimes immigration officials will ask about your past, especially when you have negative criminal or immigration history.  This includes the time before you became a resident and the time after you became a resident.  Each case is different, you may receive many questions about your past or none at all.
USCIS scheduled my citizenship interview. How do I prepare?
First, review your naturalization application for errors such as misspellings of names, or incorrect dates.  If you have moved to a new address, or begun work with a new employer, have that information ready to provide at the interview.
Next, study for the civics exam.
Finally,  gather the documents listed on the interview notice.  If you have any criminal history, you will want to get a headstart on gathering certified copies of any arrest reports and court documents.
I already got my citizenship interview.  When will USCIS make a final decision?
By law, USCIS must give you their decision within 120 days.
What happens after the citizenship interview?
Usually you won't get a decision on your case on the day of the interview.  If you have criminal history, then the officer must request a supervisor review your case before approval.
After the interview, expect to wait for a notice from USCIS, where either of three things can happen:
USCIS approves your case; or
The interviewing officer denies your case; or
The USCIS office requests more documents
What If There Is A Delay After The N400 Interview?
If over 120 days have passed since your interview, then first call the USCIS hotline at 1 (800) 375-5283 and ask to speak to a supervisor.  This person will assist you to find out about your N400 case status. Tell the supervisor over the phone that you had an interview and over 120 days have passed. Politely ask   for an in-person appointment where you had the appointment.  For example, if you had an interview in Houston, Texas then you would call the number, ask to speak to a supervisor, and respectfully request that the supervisor make an appointment for you in Houston, Texas.
If the supervisor does not want to help you, you can contact an officer of the USCIS Ombudsman.  The Ombudsman's office helps when a case is severely delayed and USCIS has not helped.   To request Ombudsman assistance, you will have to file a Form DHS-7001 online, by going here.
Another option is to contact an experienced immigration attorney, and to ask him about the possibility of filing something called a petition for writ of mandamus.
Finally, if you have had your interview fewer than 120 days ago, the best thing is to be patient. USCIS may simply be very busy, or possibly your the agency switched your case to a new USCIS officer, or USCIS may be experiencing technical difficulties.  No matter the reason for the delay, USCIS has 120 days, so it is best to wait until then before escalating your case.
What happens after USCIS approves my N400?
At the citizenship interview, sometimes the USCIS officer will let you know if he or she plans to recommend approval of your citizenship application.  It is important to remember that this is only the officer's recommendation and that your case has not yet been approved.
If  the agency approves your application, USCIS will mail you an Oath Ceremony letter.  The agency refers to it as an Oath Ceremony letter because it instructs you to attend a ceremony where you will take an oath to uphold the laws of the United States, and where you will officially become a U.S. citizen.
On the back of the Oath Ceremony letter are a series of questions.  These questions refer to the time after your interview with USCIS until the day of the ceremony.  They ask things such as "Have you traveled?" and "Have you been arrested?"  Remember, USCIS is only asking about what has happened after your interview.  So, for example, if police arrest you after your citizenship interview, but before the ceremony, then you must answer that question "Yes."  However, if nothing has changed since the time of your interview then the answer to the questions would be "No."